Clan Pompey News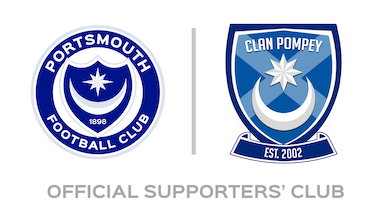 Special Day for Chris Evans
Chris in Sheffield - 18/09/10
Falklands veterans overwhelmed by welcome as guests of honour at Bramall Lane.
Two Falklands War veterans who survived the sinking of HMS Sheffield 28 years ago received an overwhelming surprise when welcomed as guests of honour at Sheffield United's game against Portsmouth. Sheffield-born Andy Stephenson but now living in Helensburgh (Argyll and Bute), Scotland and Portsmouth fan Chris Evans were in Sheffield to lay a wreath at the Cathedral in memory of their 22 shipmates lost that day on May 4, 1982. Already guests of the club for the match, a chance meeting in the Copthorne Hotel at Bramall Lane the night before saw them and their wives treated to an incredible VIP day.
Andy, who served with the Royal Navy until 2007, said: "We originally had two tickets and a tour of the ground sorted out. But on the Friday night in the hotel bar we ended up talking to Mike Farnan, group executive director of Sheffield United. Before we knew it Mike decided we should get the red carpet treatment, with four tickets in the directors box, four boardroom passes and a champagne reception." Andy and Chris were also introduced to the crowd before kick off and received a rapturous reception. Andy said: "When we walked onto the pitch the clapping and cheering was quite overwhelming, and it made us realise how much our military service is valued. While we lost many friends on that fateful day, the welcome we got, showed that the ship and its company will always be remembered and never forgotten."
Chris, a fan of 48 years, was not too disheartened with seeing his team lose. He said: "I have travelled to many grounds both in the Championship and Premiership to watch my club and without doubt no club has come anyway near in matching the organisation and hospitality shown by Sheffield United FC. Chairman Kevin McCabe said it was a pleasure to honour us and the least he could do - to be honest we would have just been happy with the tour and the two tickets in the stand, but to have the day out we did and people coming up to us shaking our hands, there really are not enough superlatives to put their way."
Mr Farnan said: "We were delighted to support Andy, Chris and their wives. It was only appropriate they became the club's guests of honour. Both Mike and the Chairman said that "Andy, Chris and their families will be welcomed back to the ground whenever they are in the area. Andy and Chris are now very much considered to be part of the "Blades family; HMS SHEFFIELD meant a lot to this club.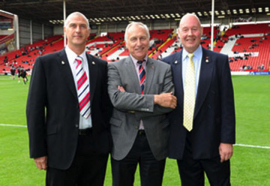 Play up Pompey!